I would like to introduce you a delicious recipe: The olive oil cake! This sweet is very popular in the region of Sevilla. The olive oil cake is a typical dessert of the Spanish confectionery. The origin of the olive oil cakes is unknown but the pastry studies point to Arab, Jewish or Mozarabic recipes from the southern half of the Iberian peninsula.
I strongly recommend you to prepare this recipe with the variety ARBEQUINA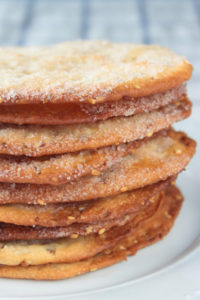 What do we need?
Scant 1/3 cup of olive oil
Zest from half an orange and one lime
1/3 cup, plus 1 1/2 tablespoons water
2 tablespoons anise liqueur
3 3/4 teaspoons instant active dry yeast
2 cups bread flour
A pinch of salt
1 tablespoon anise seeds
1 heaping tablespoon sesame seeds
4 tablespoons sugar
Sugar, for dusting
How do we prepare them?
1. In a small saucepan, place the olive oil with the orange and lemon zest. Heat it just for few seconds, at low heat, and turn it off when it starts to boil. Then remove the zest and let it cool.
2. In the bowl of a stand mixer, place the water and the anise liqueur. Add the oil and dissolve the yeast.
3. In a medium bowl, mix the flour, salt, anise seeds, sesame seeds, and sugar.
4. Add the flour to the bowl with the liquids. Using the paddle attachment, knead it until it separates from the bowl and does not stick to your hands. Cover the bowl with a plastic wrap and let it double its size.
5. Preheat oven to 390°F. Line two baking sheets with parchment paper or silicone baking mats.
6. Make out of the dough small balls. Flatten with your hand and with a rolling pin, roll out until very thin, almost translucent. Place each cake on the baking sheets and sprinkle with sugar.
7. Bake for 10-12 minutes or until golden brown. When you see that the cakes are golden brown, take them out of the oven. They will be a little soft but they will harden as they cool.
8. Transfer to wire racks and let them cool down.